Company symbol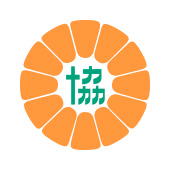 The symbol of Kyodo Yushi represents twelve segments of Citrus Tachibana with "協" placed at the center. "協" is the first Chinese character of the name of the company.
Tachibana is an evergreen tree having its leaves throughout the year, always green. For the reason, it has been used as a traditional lucky motif in Japan, symbolizing "prosperity" or "long life."
Citrus Tachibana presents an image of a production kettle, the source of our business, and the twelve segments, twelve months or one year. Implicit in the mark is our desire that our company enjoys lasting stability and prosperity.
Our corporate colors, green and orange come from the leaves and segments of Tachibana respectively. The former expresses our determination to fulfill the trust of our customers, and the latter our warm and empathic dedication to improvement.
Kyodo Yushi filed an application for trademark registration in November 1966, then the symbol has been used as its registered trademark since May 1968.