President's Message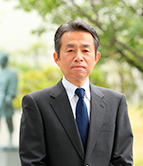 To Remain Trusted Worldwide,
We Will Contribute to Society
in an Era of Rapid Change
Today, grease is used in many industrial arenas.
Grease is indispensable whenever parts and components move together. The role of grease has been reassessed as the industrial world develops. Grease contributes to manufacturing worldwide with theoretical clarifications offered.
Blessed with many excellent customers over the last 75 years, Kyodo Yushi has benefited greatly from their valuable guidance. Our success is truly due to the support of our stakeholders, and I take this opportunity to express my sincere gratitude to them.
Adopting as our corporate philosophy "contributing to society through the practice of a tribological spirit" as the criteria for all our decision-making and actions, we will continue to embody this philosophy to support the activities of our customers through high-performance lubricants, showing modesty, sincerity and enthusiasm.
With the acceleration of new developments such as the arrival of the CASE (connected, autonomous, shared, electric) age of automobiles as well as IoT and AI, we have developed a business policy based on our recognition of the operating environment. In the previous medium-term management plan, we took steps to establish a foundation for winning trust worldwide and vigorously pushed forward with comprehensive quality improvement. We remain committed to continuing to improve the foundations for trust in the Company through our efforts to pursue the essence of manufacturing, execute CSR, develop our human talent and improve costs.
Since our founding, we have always prioritized earning the trust of our customers in our business. All employees will make efforts, emphasizing safety and quality, to provide our customers with genuine services.

Shinichi Kofune
President & CEO