The Tribology Study Group
What is Tribology Study Group ?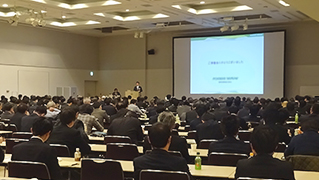 The Tribology Study Group was established at the Tokyo Institute of Technology by Professor Toshio Sakurai. Professor Sakurai, using his tribology research knowledge obtained in the UK, wanted to spread its theory and practice in Japan. Isuke Kofune, Kyodo Yushi's president at the time, recognized the importance of the study group and helped turn it into a public body.
The Tribology Study Group held its first seminar in 1970.
Annualy, more than 300 people attend annual Tribology Study Group seminars. Topics are selected by the advisory committee consisting of professors and representatives from various industries in Japan. The committee focuses on current issues such as "CO2 and Tribology." Participants take away a valuable exchange of perspectives on the topics discussed and consistently praise their educational value.
Comment of participants in Tribology Study Group
The following is a sample of the many positive comments from Tribology Study Group attendees
We gained results from hearing about technologies that surpass common sense in various fields.
We feel that participants in the study groupes have increased every year, and feel that the set purpose raises the quality of the meetings.
Bearing manufacturers
Valuable examples and research were published and it was very stimulating and helpful. As a machine manufacturer, knowledge of tribology will be increasingly necessary in the future, and we think it's important that we deepen our knowledge in this area.
Manufacturers of precision machinery
We were able to hear tribology research results for a variety of applications and it was really helpful. We could come to know not just research results but various types of market research information and I think the information we received at the study group will help us in our ideas for future research and development.
Bearing manufacturers
We are in charge of the grease lubricants business and it was very interesting to listen to the session "Surpassing common sense in lubricants".
When the industries are different, the phenomena and technical challenges focused on are different, making the approach rich in variety and highly stimulating.
Automobile parts manufacturers
We design transmissions.
Today, the lectures were mainly on a wide range of topics relevant to us such as bearings, actuators, iron and steel, materials (chemistry), so it was very useful.
Automobile manufacturers
We were able to hear a summary of the latest research results and we learned a lot.
We felt it was a good study group that could inspire new product ideas with related applications in other fields.
Manufacturers of precision machinery
Various people of different backgrounds freely shared cutting-edge research results, and we were deeply impressed by this great study gruop.
Automobile parts manufacturers
We could learn about cutting edge technology and it was helpful.
Steel manufacturers
Questionnaire <excerpt>