Environmental Activities
Kyodo Solar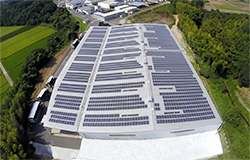 As a commitment to environmental protection and energy conservation, we installed solar panels on the roof of the Kameyama Office and Plant product warehouse (approximately 8,000m2 = one soccer field). The annual electricity generation from Kyodo Solar is enough to power approximately 170 households (calculated as 300kWh per household per month), saving 310 tons of CO2.
Specifications
No. of solar panels
2464-x 250 W
Output
616 KW
Annual generation (estimated)
614 MWh / year


*

crude oil equivalent: 7,777 x 18L kerosene cans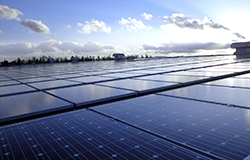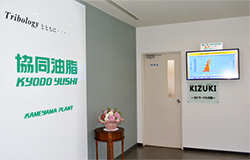 Effect
Carbon dioxide (CO2) emissions reduction: 310 tons per year
*

Equivalent forest area: 86.8ha
(18.6 x Tokyo Dome)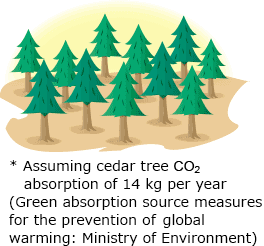 *

Equivalent number of cedar trees: 22,142
LED lighting introduction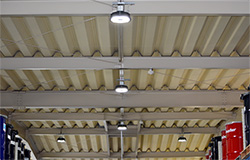 At the Kameyama Office and Plant, in addition to generating power, we are actively involved in the reduction of power consumption.
As part of this effort we have replaced our indoor and outdoor fluorescent and mercury lamps with LEDs. Through this initiative we have reduced plant-wide energy consumption by 104MWh per year, equivalent to approximately 52 tons of CO2.
In the product warehouse we have replaced 166 mercury lamps with LEDs and fitted motion sensors, reducing power consumption to a 1/3 of the original amount.
Thermal recycling of waste grease
At the Kameyama Office and Plant, as part of efforts to reduce waste, we make effective use of waste grease. Through the installation of processing equipment that can fluidize semi-solid grease, and cooperation with a processing company, waste grease can now be recycled as supplementary fuel for cement production.