Fluotribo BX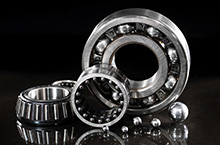 Fluotribo BX is a grease developed for bearings. Offers long life at high temperature. Focusing lubrication mechanism of fluorinated grease realizes long service life.
Characteristics of Fluotribo BX
1.

High-temperature long-life

Significantly extends seizure life of bearings operating under high temperature environment.

2.

Rust prevention

High in rust preventive performance required for a bearing grease.
Main applications and applicable components
For bearings which require heat resistance
Typical Property
| Test item | Test method | Test results |
| --- | --- | --- |
| Thickener | - | PTFE |
| Base oil | - | PFAE |
| Working penetration | ASTM D 217 | 280 |
| Service temperature range | - | −50°C - 250°C |
※

The above values are typical properties and we cannot guarantee the applicability of this information in any individual situation. Information regarding the application and service temperature range or typical property values are provided as a guide in selecting the appropriate grease. It is recommended that the user makes its own assessment and determination of the safety and suitability of the product performance/properties for the intended purposes prior to use.

※

Safety Data Sheet (SDS) of the product should be consulted prior to the use.

※

The information contained herein is subject to change without notice.

※

All images used are for illustrative purposes only.