Fluotribo MS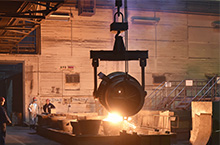 fluorinated grease developed for applications in high temperature environment or harsh environment containing acids and solvents.
Fluotribo MS uses carefully-selected high viscosity grade PFAE (perfluoroalkyl polyether), for lubrication at high temperature, as its base oil, and PTFE (polytetrafluoroethylene), chemically very stable fluorocarbon polymer, as its thickener. Especially excels in heat resistance, oil resistance, chemical resistance.
Characteristics of Fluotribo MS
1.

Heat resistance

Since the base oil is high in viscosity index, the grease shows small change in temperature-viscosity and stability at high temperature. Superior in heat resistance.

2.

Long service life property

Showing outstanding oxidation resistance, the grease retains the quality and offers long service life. Maintenance-free grease which functions for long time without refeeding.

3.

Lubricity

Having properties as solid lubricant, its thickener, PTFE provides excellent resistance to friction and wear, keeping outstanding lubricity at high temperature range around 200°C.

4.

Resistance to oil/chemicals

Being chemically stable, the grease provides resistance to acid, alkali, oil and chemicals.

5.

Rubber/plastic compatibility

Causes no adverse effects on most types of rubbers and plastics for its good chemical stability.
Main applications and applicable components
Most suitable for lubrication of equipment operating at temperature range from -30°C to 250°C.
Lubrication points of equipment operating under high temperature conditions such as drying oven overhead trolley systems
Lubrication points of equipment in chemical plants which handle chemicals and solvents
Lubrication for plastic moving parts of electronic/precision equipment
Typical Property
| Test item | Test method | Test results |
| --- | --- | --- |
| Thickener | - | PTFE |
| Base oil | - | PFAE |
| Working penetration | ASTM D 217 | 300 |
| Service temperature range | - | −30°C - 250°C |
※

The above values are typical properties and we cannot guarantee the applicability of this information in any individual situation. Information regarding the application and service temperature range or typical property values are provided as a guide in selecting the appropriate grease. It is recommended that the user makes its own assessment and determination of the safety and suitability of the product performance/properties for the intended purposes prior to use.

※

Safety Data Sheet (SDS) of the product should be consulted prior to the use.

※

The information contained herein is subject to change without notice.

※

All images used are for illustrative purposes only.