Multemp ELP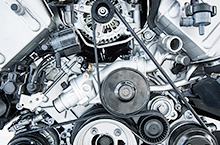 High-performance conductive MULTEMP ELP, unlike other electric insulating general greases, contains composite carbon black to thicken synthetic hydrocarbon oil.
Optimum choice for lubrication points which are plastic made or adjacent to plastic parts for its good plastic compatibility.
Characteristics of Multemp ELP
1.

Conductivity

Best for lubricating components which require conductivity since the grease uses carbon black thickener.

2.

Plastic compatibility

Containing synthetic hydrocarbon oil as the base oil, the grease is excellent in plastic compatibility.
Main applications and applicable components
Various types of mechanisms which require conductivity
Typical Property
| Test item | Test method | Test results |
| --- | --- | --- |
| Thickener | - | Carbon black |
| Base oil | - | Synthetic hydrocarbon oil |
| Working penetration | ASTM D 217 | 254 |
| Service temperature range | - | −50°C - 150°C |
※

The above values are typical properties and we cannot guarantee the applicability of this information in any individual situation. Information regarding the application and service temperature range or typical property values are provided as a guide in selecting the appropriate grease. It is recommended that the user makes its own assessment and determination of the safety and suitability of the product performance/properties for the intended purposes prior to use.

※

Safety Data Sheet (SDS) of the product should be consulted prior to the use.

※

The information contained herein is subject to change without notice.

※

All images used are for illustrative purposes only.